you wouldn't last one minute on the creek
A downloadable cosmic dread funnel
I was once watching a certain beloved show about a sentient creek. When I brought it up at work, someone mocked me. I quickly shouted at them "YOU WOULDN'T LAST ONE MINUTE ON THE CREEK". This brewed in my skull for years.. Now I offer you a TROIKA! compatible version of this experience. So uh.. roll up a character with the background of choice.
This is a cosmic dread simulator, that could also function as a funnel. Maybe you're playing a game and you need a duel and someone shouts "YOU WOULDN'T LAST ONE MINUTE ON THE CREEK"... ya.. now u kno what will happen.
You could also use it as a quick way to level up your TROIKA! characters.
It's also totally functional as a 1 player game.
let me know in the comments how many seconds you make it on the creek... maybe we'll make a leaderboard. Currently a pickup truck made it 10 seconds before taking a frisbee to the face and being sent to its doom in the creek.
Offering of Dark Space Nachoes:
"You wouldn't last one minute on the creek" is an independent production by Orbital Intelligence, LLC and is not affiliated with the Melsonian Arts Council.
ps u could listen to Giant Squid's "Monster in the Creek" while you play it.. could be cool

ps could u design a background that could last 60 seconds on the creek?
Purchase
In order to download this cosmic dread funnel you must purchase it at or above the minimum price of $3 USD. You will get access to the following files:
you wouldn't last 1 minute on the creek (TROIKA).pdf
661 kB
Comments
Log in with itch.io to leave a comment.
RIP John Plane
Press F to Pay Respects
an honorable death, In the vastness of the creek
I don't know what this is, just that it is.
Here are some things I think I understand.
-The title is a Chiodos reference?
-It has mechanics.
-You can sort of play it like a random encounter table that you can win, although it leans heavily towards surrealism.
-I'm not sure it works as a funnel for starting adventures, because there's entries that just end the world.
Overall, this is definitely a pdf.
Minor Issues:
-On some pages the heading in the seconds column says "tota" instead of "total"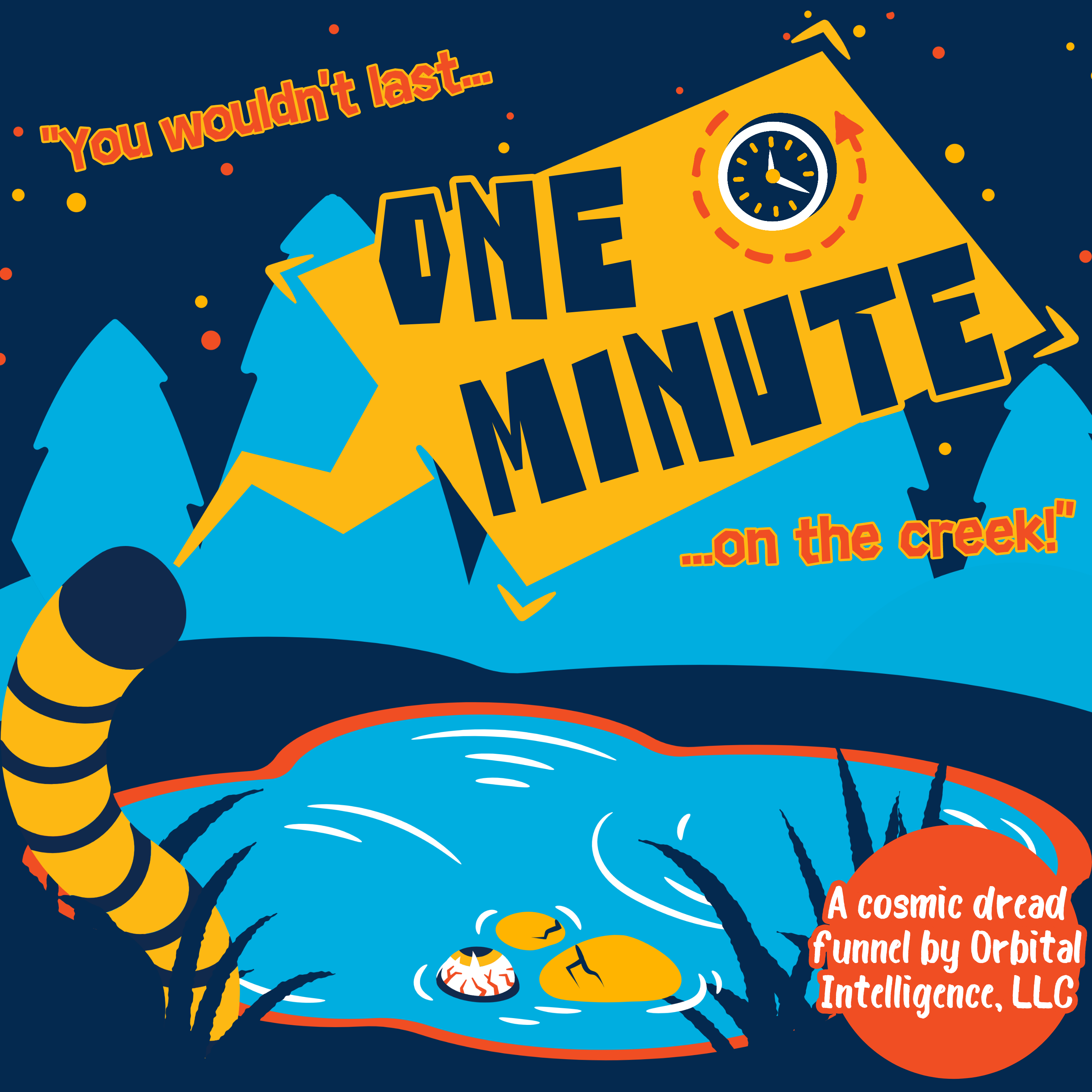 how many seconds does my submission last on the creek
all the assets i used are royalty-free, and i can adjust to any color palette you like, if my offering survives the creek
I let my vector software subscription expire so i can't make any changes to it, but this image is all yours, my friend
I figured that creek's aren't deadly enough. and "creek"'s are 2 deadly.


I'd love to turn it into a spell at some point. Like a 5 stamina spell or something. "I cast 'you wouldn't last a minute on the creek' on the dragon" "u sure u want to do that?" "To the creek with it" "so be it. As unto water we are unto hydrogen"